Archive for the 'polling game' tag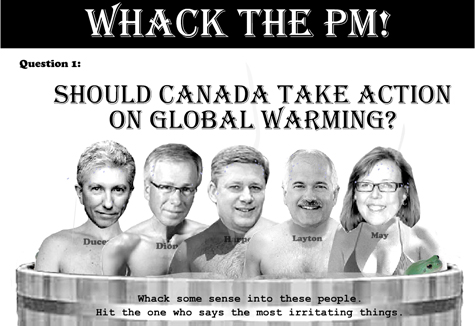 Canada's election is heating up. (And so is our planet.) Who will get us out of this hot water?
TORONTO, September 13, 2008 — As the October 14th Federal Election Day draws near, Canadians are in hot water trying to decide which leader to trust.
Whack the PM, an online polling game and strategic voting tool at www.whackthepm.ca, is helping Canadians address the election issues and decide who they should vote against.
Whack the PM puts the leaders of the five top parties in a simmering hot tub with tough questions about global warming, the economy, leadership, food safety, Afghanistan, minority governments and the kicker — "All politicians are liars. Why should I trust you?"
With each question, voters respond by whacking the candidate who has the most irritating answer on the head. Using this visceral and interactive process, voters determine which leader is most deserving of their distrust.
"We don't play favorites. We make fun of all the candidates," says Franke James, the site co-creator and co-founder of The James Gang, a social media and creative content company. "The Canadian electorate is facing some big decisions. Will the economy trump the environment? Is a carbon tax necessary to punish polluters? If Stephen Harper wins a majority how will that change the face of Canada? Which leader can we trust? With Whack the PM we're allowing average Canadians to vent, and helping them decide who they should vote against."
At the time of this release, Stephen Harper is being whacked most often, and leads the straw poll as Canada's most detested politician. See the current stats at: www.whackthepm.ca/stats_show.php.
Whack the PM offers strategic voting advice on a riding-by-riding basis. It has been designed to select the candidate who has the best chance of defeating your detested leader in your riding. For example, if you want to defeat the Liberals, you may be advised to vote for the NDP, the Tories, or whichever candidate has the best chance to defeat them. It helps voters make the most effective and strategic use of their votes.
About The James Gang
The James Gang creates entertaining and educational content, online and offline. Entertainment projects include My Green Conscience, Verbotomy: the create-a-word game, and Office-Politics. The James Gang is a privately held company based in Toronto. For more information visit: www.jamesgang.com.
– 30 –
For Information:
The James Gang
Tel: 416·256·9166
Email: franke [at] jamesgang.com